Pregnancy is both a miracle of life and a difficult time, with many negative symptoms associated with it, such as nausea, pain, and anxiety. Many expectant mothers are turning to CBD oil products to alleviate these symptoms.
But exactly what is CBD oil? How do you take it, and what effects can it have on your pregnancy? Read on to learn everything you need to know about CBD oil and make the best decision for yourself.
What Is CBD Oil?
CBD is the short form of "cannabidiol." Cannabidiol is a compound extracted from plants in the gens Cannabis, specifically the hemp plant. Many people use CBD for a variety of therapeutic effects, as it can reduce seizures, anxiety, and chronic pain, among a wide range of other conditions. Proponents of CBD oil take it for both psychological and physical benefits.
When taken in an oil form, CBD attaches to the receptors in your brain, affecting the endocannabinoid system. These receptors regulate many different bodily processes for humans, including your appetite, your mood, your immune system, and your ability to feel pain. As a result, using CBD oil can alter your perception of pain, alleviate anxiety and depression, and also decrease inflammation.
Differences Between Using CBD Oil and THC
CBD and THC are both compounds that are extracted from cannabis plants. They even have the same molecular structure: 30 hydrogen atoms, 21 carbon atoms, and 2 oxygen atoms. They both affect the release of your brain's neurotransmitters, which is how they can reduce pain. They also both can come in the form of oils or supplements. However, though they are chemically similar and people often use the terms interchangeably, it is important not to get them mixed up.
THC stands for tetrahydrocannabinol, which is the main compound found in the marijuana plants. When people smoke marijuana, it is the THC which gives them hallucinations and the feeling of being "high," or euphoric.
CBD, on the other hand, comes from the hemp plant. It is not a psychoactive compound, and so it does not create the "high" sensation associated with smoking marijuana. In fact, if you take a CBD product at the same time as a THC product, the CBD may actually interfere with the psychoactive effects of the THC.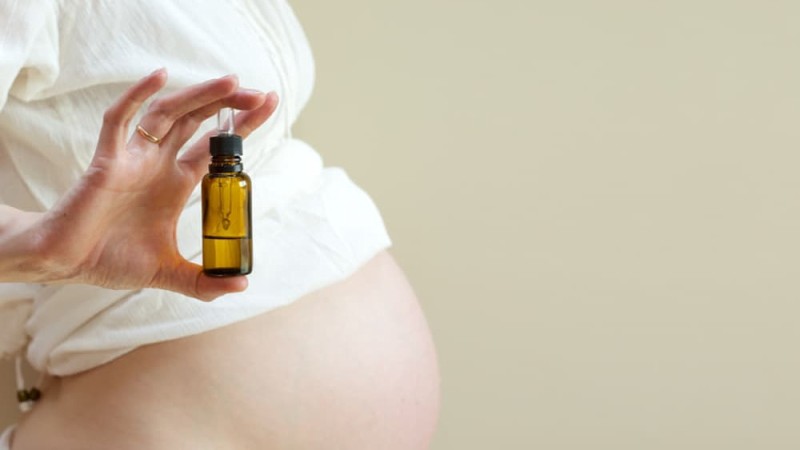 CBD Effects On Pregnancy
CBD targets many of the common symptoms associated with pregnancy, such as nausea and vomiting of "morning sickness" as well as the anxiety and depression associated with the post-menstrual period. CBD can also alleviate stress, help expectant mothers sleep more easily, and get rid of the many cramps, aches, and other pains that arise during the nine months of carrying a child. If you or someone you know is an expectant mother who has not had much luck with other pregnancy medicines, which often have side effects just as unpleasant as what they purport to alleviate, CBD might be an appealing option. Less pain, less nausea, and more sleep can allow you to live a healthier life for your new baby!
Of course, many ob-gyns hesitate to prescribe or promote CBD use for pregnant women, because of the lack of research associated with this product and its effects. Though many studies support the short-term positive effects of CBD oil on pregnant women, there are currently no long term studies to examine the effects down the line on fetuses who absorbed hemp extracts while in utero. Also, it is known that THC – which, again, is not the same thing as CBD, though they are chemically similar – can have a negative impact on the development of human embryos, which is why smoking marijuana is not recommended while pregnant. This can make expectant mothers wary of using a similar product of CBD while pregnant. Talking with your doctor or other health care provider about your options is essential when deciding how best to handle your negative pregnancy symptoms.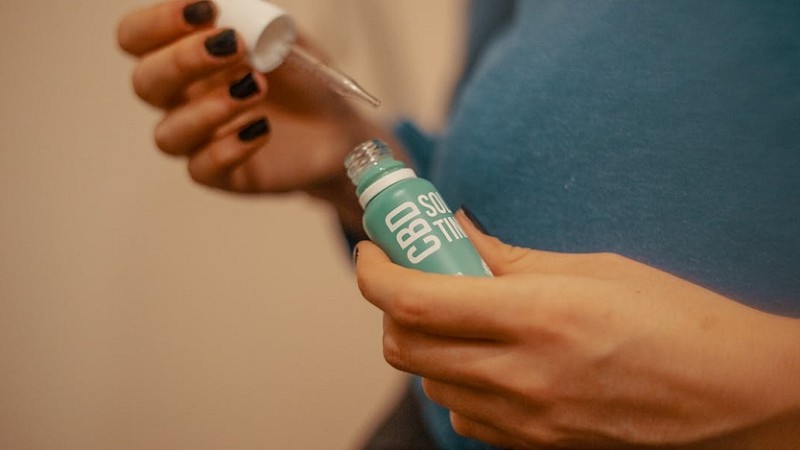 How To Take CBD Oil
There are four main ways to take in CBD oil and enjoy its effects. It's important to choose the method that will work best for you!
Ingestion
Most expectant mothers who take CBD oil choose to orally ingest the oil. CBD oil products can be purchased online from trusted vendors like CBDistillery, Royal CBD, Charlotte's Web. They come in a variety of options (ranging from 250mg, 500mg to 1000mg) in the form of tinctures, beverages, edibles, and capsules, which are all easily consumed. There is even CBD oil coffee! CBD oil capsules should be washed down with a small mouthful of water.
When you ingest an edible CBD oil product, the oil passes through your digestive system and is gradually metabolized by the liver, ultimately sending the active CBD compounds into your bloodstream. This is the way that most vitamins or other daily supplements that you might take are processed in your body.
Sublingual Administration
"Sublingual" refers to holding something underneath your tongue. When you take a sublingual CBD oil product, such as a tincture or concentrate, you hold it under the tongue for around a minute and a half. This allows the mucus membranes in your mouth to absorb the active CBD ingredients, completely skipping the digestive system and liver. As a result, the CBD compounds reach your bloodstream and endocannabinoid system much more quickly than when it is simply ingested.
Topical Application
CBD oil can also come in the form of a lotion or salve, which you can apply onto your skin. The CBD product's active compounds are absorbed through your skin, interacting with the nearby cells without actually entering your bloodstream. This kind of CBD oil product is the best option for people looking for pain relief in a specific part of the body.
Inhalation
CBD oil can also be taken in through the lungs, by vaporizing or "vaping" the product. The vape heats up the CBD oil just the right amount to release its active compounds, and the CBD diffuses directly from your lungs to your bloodstream, in a quick, efficient manner.
Now that you understand CBD oil, its effects, and its forms, you are ready to tackle your negative pregnancy symptoms in a new way!