Over the last couple of years, CBD oil has become a hot topic when it comes to dealing with pain-related issues.
The reason scientists have so much interest in researching the health benefits of CBD lies in the medicinal nature of this cannabinoid. CBD interacts with the human endocannabinoid system to regulate a range of biological processes — including pain perception.
Unlike its psychoactive cousin THC, CBD is non-intoxicating, meaning it won't get you high. That's why it's the go-to supplement for so many people that want to benefit from cannabis without any psychoactive side effects.
The exact reason for the analgesic effects of CBD remains unclear, but the growing body of evidence suggests that CBD oil can act on many levels of pain transmission.
I'll explain everything in this article, but first, let me show you my top 5 CBD oil brands for pain.
CBD Oil for Pain: Complete Guide for Beginners
Pain is an everyday companion for a lot of people. Cannabis appears to help where conventional treatment options fail, but what if you want to benefit from the plant's painkilling effects and stay completely sober at the same time?
THC is not an option.
But thankfully, you can also get hemp-derived CBD oil, one that contains only trace amounts of the psychoactive cannabinoid — but still carries an abundance of CBD.
In this section, I will talk about the mechanism behind the analgesic effects of CBD and shed some light on how CBD can help with common pain-related conditions.
How Does CBD Oil Relieve Pain?
People are somewhat hardwired for cannabis.
The earliest records of the medical use of the herb date back to ancient China when the emperor Shen-Nung placed it among other therapeutic substances in the Chinese pharmacopeia (1).
Despite being a known medicine for a long time, only recently scientists have managed to find the mechanisms behind its health benefits.
Since the discovery of the endocannabinoid system in 1992, CBD and other phytocannabinoids have been in the spotlight of modern medicine.
The endocannabinoid system is one of the most important neurochemical networks in the human body (2). It controls every homeostatic function in the body by regulating an array of vital processes, namely:
Appetite
Immune function
Memory
Stress management
Sensory perception (including pain)
In short, the endocannabinoid system produces molecules known as endocannabinoids — our "inner cannabis.". These substances are released whenever the body decides the above processes need improvement.
Endocannabinoids tap into two different kinds of receptors: CB1 and CB2. CB1 receptors are mostly located in the brain, while CB2 receptors are found in the central nervous system, peripheral nervous system, immune system.
By acting on the above receptors, CBD can relieve pain by:
Acting as a neuroprotectant and antioxidant
Providing immunomodulatory effects
Reducing inflammation
The exact way in which CBD oil relieves pain is still being studied around the world. However, results from animal studies and preclinical human research suggest that the analgesic nature of CBD can benefit patients on many levels.
Top 5 Best CBD Oil Brands for Pain Management
If you don't want to be that "CBD oil doesn't work for my pain" type of person, you need to buy your CBD from a trusted vendor.
With so many brands on the market, choosing the best CBD oil for pain can be overwhelming. Every company promises great things with their CBD products, but many of them fall short on nearly every promise they make.
I've been using CBD for over 5 years now and I've stumbled upon both stellar companies and fly-by-night businesses. I have a relatively short list of CBD brands that I fully trust and I want to share my choices with you because I believe these companies deliver the highest quality of CBD and the best customer service as of right this moment.
Here's my ranking of the top 5 CBD oil brands for pain:
1. Royal CBD (Purest & Most Effective)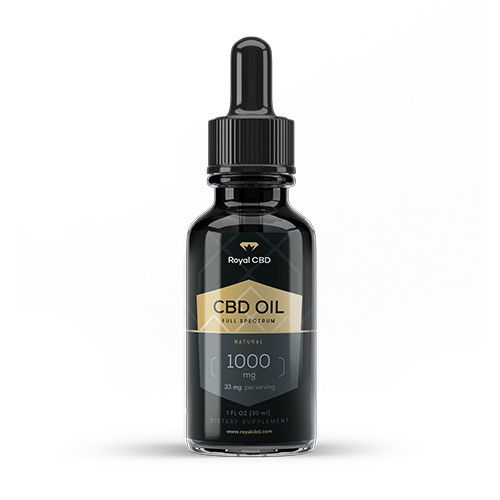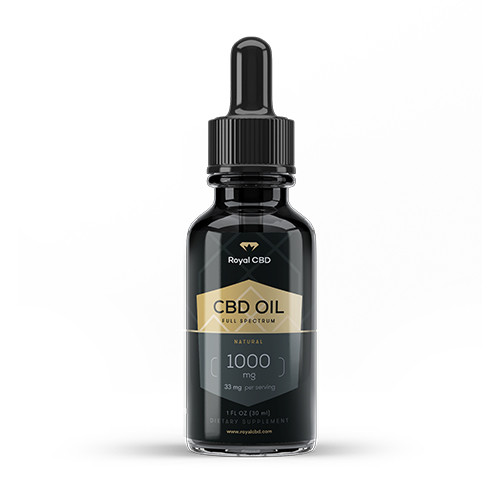 Pros:
Sourced from US-grown organic hemp
Extracted with supercritical CO2
Contains the full spectrum of cannabinoids and terpenes
Available in 3 different strengths
Up to 1000mg of CBD per bottle
Lab-tested for potency and purity
Great neutral flavor (with no unpleasant aftertaste)
Free shipping
Cons:
Only comes in one flavor — natural
What I Like About Royal CBD:
As skeptical as I am towards the majority of new CBD brands, I decided to give Royal CBD a try because they struck me with how they marketed their CBD oil. There was no fluff, just sheer facts and the emphasis on the quality of their ingredients — everything backed by extensive 3rd-party testing.
After taking the 1000mg oil for about a week, I noticed a significant improvement in my back pain. There was a time when I had serious problems falling asleep because of it, and CBD oil succeeded where my former go-to OTCs failed miserably.
With this oil, my experience went far beyond what I expected. Not only did it help ease the pain, but my overall quality of sleep also improved. I mean, I didn't sleep longer but I began to wake up rested and with a clear head.
I love the fact that these guys use American-grown hemp and they make all their extracts using supercritical carbon dioxide. You can tell by the color of the oil that the manufacturing quality of this product is top-notch.
2. CBDPure (Runner Up)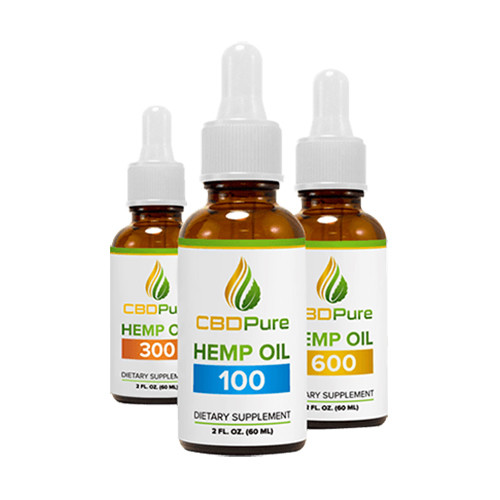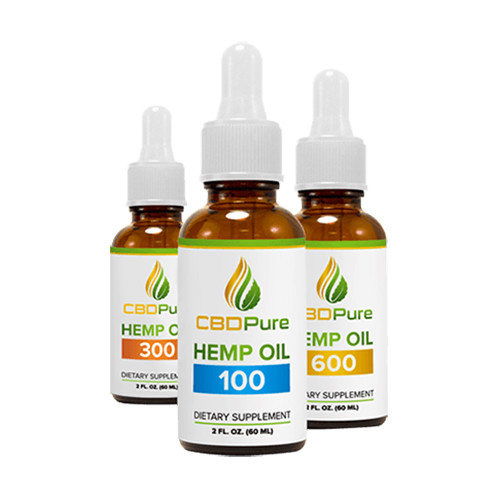 Pros:
Sourced from Colorado-grown organic hemp
Extracted with supercritical CO2
Tested for the cannabinoid content and purity in 3rd-party laboratories
You can return the product within 90 days and you'll get a full refund if you're not satisfied with how it works
Cons:
Narrow product range
Low potency
They don't ship to every state (i.e. Louisiana, Indiana, Arkansas, Kansas)
What I Like About CBDPure CBD Oil:
I love how transparent this company is. If I were judging companies solely by their transparency level, CBDPure would have scored the second place, right after Royal CBD. They provide details about each stage of production when making their CBD products and confirm the claims made on the labels with certificates of analysis for each batch of their CBD oil.
I'd say this company makes the best CBD oil for low and moderate pain, as they mostly sell low-to-medium potency products. If you're not satisfied with CBDPure's oil, they offer a 100% satisfaction guarantee program, which allows you to get a full refund if you return the product within 90 days after the purchase.
I keep a bottle or two of CBDPure oil when I feel achy from changes in weather or when I'm tired after my jogging sessions.
3. HempBombs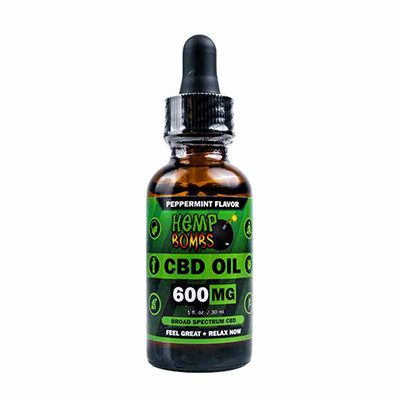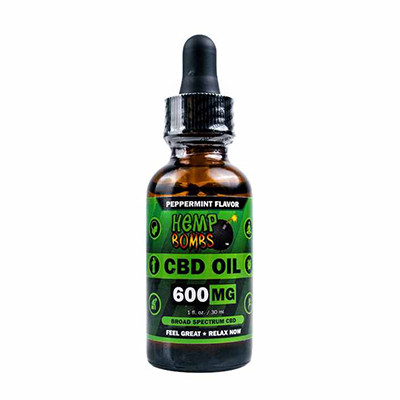 Pros:
Sourced from 100% certified organic hemp from European farms
Extracted with CO2
Contains zero THC
Tested in 3rd-party laboratories for purity and potency
Available in 5 strengths
Up to 4000mg of CBD per bottle
Less expensive than full-spectrum extracts
Cons:
Lacks the synergistic effects from other cannabinoids
The highest potencies are overkill for most users
What I Like About HempBombs:
I've been using HempBombs for quite some time before switching to full-spectrum CBD oil and in my opinion, this is the best brand when it comes to CBD isolates. Their products contain 99% pure CBD and ZERO THC. You can buy this isolate as tinctures, vape oils, capsules, and edibles.
HempBombs CBD oil is available in five different strengths, from 300mg to 4000mg per bottle. With 99% purity, the strongest bottle gives you a total of 3960mg of pure CBD per unit. 
Although I think full-spectrum extracts are more effective than isolates, I understand that for some people, the latter is the only option (legal matters, allergies to certain cannabinoids, the fear of testing false positive on a drug test). If that's your story, HempBombs is the way to go.
You can also use their oils in combination with full-spectrum CBD products for extra potency kick.
Their isolate will give you the highest dose per serving, which is great news for people struggling with pain and sleep disorders, as higher doses of CBD induce sedation.
4. CBDistillery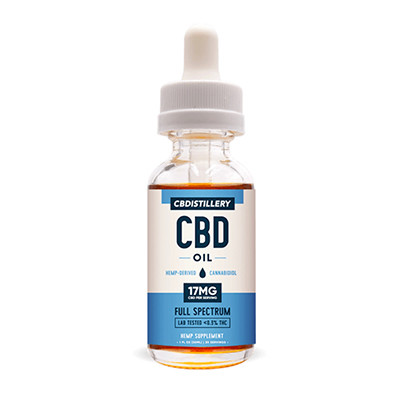 Pros:
Sourced from non-GMO hemp
Available as full-spectrum CBD or pure CBD oil (THC-free)
5 strengths to choose from
Carries 33.3 mg of CBD per mL (in the 1000 mg bottle)
Very affordable
Cons:
The hemp isn't organic
No flavored options
Clunky website
What I Like About CBDistillery:
CBDistillery is one of the companies that have paved the way for other brands in the industry, but make no mistake — this doesn't mean they've rested on their laurels.
On the contrary, CBDistillery continues to set high standards for their competitors when it comes to making CBD oil.
The company sells its CBD as "full-spectrum" or "THC-free." The THC-free option is great for people who want to benefit from the synergy of CBD and other cannabinoids but without ANY THC in their system.
You can choose between five different strengths, starting at 250mg up to 5000mg of CBD per bottle. This means that you can use it for both mild aches and chronic pain or migraines.
I tried the 1000mg bottle to keep myself calm during the first few months after giving birth to my first son and I must admit it helped me maintain my sanity during that time. It has a remarkably calming effect on the body, too.
5. NuLeaf Naturals

Pros:
Sourced from organic Colorado-grown hemp
Extracted using a combination of subcritical and supercritical CO2
Full-spectrum
Up to 4850mg of CBD per bottle
Cons:
More expensive than the other brands in this ranking
Narrow product range
What I Like About NuLeaf Naturals
Another trailblazer in my ranking, NuLeaf Naturals has been selling their full-spectrum CBD oil for over 5 years now. They only sell CBD oils (no vape oils or gummies), so if you're looking for a more diverse product range, I suggest that you turn to Royal CBD, HempBombs or CBDistillery, but those using CBD in its most classic form should be delighted with the premium quality of NuLeaf Naturals' extracts.
You can choose between five different sizes:
5mL — 240mg of CBD
15mL — 725mg of CBD
30mL — 1450mg of CBD
50mL — 2425mg of CBD
100mL — 4850mg of CBD
So, not only can you draw more benefits from this CBD oil due to the full spectrum of cannabinoids, but you can also choose the size according to your supply needs.
However, these products are priced higher than the competition. There are better deals out there, which is why I decided to give NuLeaf Naturals the last place in the ranking despite the stellar quality of their CBD oil.
How to Find the Best CBD Oil for Pain Relief
CBD has become a lucrative business. Companies sell a myriad of different CBD oils and each of these brands have their own way of marketing themselves as "the best."
But as with most self-proclaimed leaders, the vast majority of such companies sell mediocre, if not inferior CBD oil.
There are several factors that can make or break your experience with CBD oil. Below I share everything there is to know about making a well-informed purchase decision.
Check the Hemp Source
Hemp can take up every substance from the soil it grows in. This means that when grown in fertile, nutrient-rich soil, the plant will give high-CBD yields with plenty of other phytonutrients. It will also be free of any contaminants that could compromise its quality.
Many of these contaminants (like heavy metals) can actually make the pain worse — so make sure you avoid low-quality products.
Poorly grown hemp will always show signs of its inferiority with lower concentrations of CBD, fewer nutrients, and high contamination level. Such hemp is most often imported from overseas, mainly from China.
If you want to make sure your hemp is of the highest quality, buy from companies that source their CBD from domestic farmers, preferably from states such as Colorado, California, or Oregon.
Look for CO2 Extracted Products
CO2 extraction is an innovative method of making CBD extracts. Reputable companies always use pressurized CO2 for extraction because it allows them to achieve clean and potent extracts.
If a company is using harsh solvents like butane or propane (or they don't tell you anything about their extraction methods), it's a sign that you should look for another brand. These solvents often left toxic residue behind, which can be dangerous for your health.
Ask for 3rd Party Lab Reports
Every company has the option to send their products to a third-party laboratory for meticulous analysis.
These laboratory tests check for the entire cannabinoid profile of the extract and are able to detect over 200 common contaminants.
Before a CBD product becomes available for sale, it should pass the laboratory test for potency and purity. If any inconsistencies are shown between different batches of the same product, the company should rework it and send it for analysis once again.
Always buy your CBD oil from companies that show third-party lab reports on their website. Only then will you know what's inside the bottle before you even order a product.
Verify the Company's Credibility
As I said, many companies tend to stretch the reality, and relying solely on their claims is a risky approach. Instead of trusting the brand at face value, do thorough research and make sure you read plenty of verified user reviews beforehand.
Check the third-party sources as well because it often happens that a company has stellar reviews on their website while pages like Amazon smash their products with lots of 2-star reviews.
I know it takes time, but it will save you more money in the long run — promise!
What studies say about using CBD oil for pain:
Using CBD Oil for Chronic Pain
The painkilling properties of cannabidiol have been most thoroughly studied in animal models. It has been demonstrated repeatedly that CBD in its oil form can prove useful treating different forms of chronic pain.
Even though more clinical trials on humans are needed to gauge how CBD affects specific conditions, scientists believe that the efficacy of CBD in treating chronic pain is related to its anti-inflammatory effects (3).
CBD Oil for Arthritis
According to preclinical human studies, CBD oil can be a very effective alternative to prescription meds for arthritis and other forms of localized pain triggered by inflammation.
Researchers have found a clear link between the endocannabinoid system and the pathophysiology of osteoarthritis, which is a degenerative joint illness associated with chronic inflammation (4).
CBD stimulates the activity of CB1 receptors, helping them achieve the chemical balance in the immune system, reduce inflammation, and consequently relieve pain.
CBD and Multiple Sclerosis Pain?
Due to its antioxidant and anti-inflammatory properties, CBD is a potent neuroprotectant — which is thought to be one of the main reasons it's able to relieve debilitating pain, which affects 50–70% patients with multiple sclerosis.
A study conducted on animals at Cajan Institute tested the anti-inflammatory effects of CBD on mice the researchers wanted to find out if CBD can provide a reversed inflammatory response on those cells. After 10 days, the researchers found a reduction in inflammatory markers with a rodent encephalitis model designed to imitate what MS causes (5).
If scientists can get repeated effects in human trials, that can be groundbreaking information for MS sufferers around the world.
CBD for Muscle Recovery & Pain
CBD oil can be applied in three ways when it comes to pain from physical activity. For example, when you take CBD oil before a workout, it can enhance your focus and boost muscle endurance so that you're able to push that one more rep in the gym.
When administered as a post-workout supplement, it helps alleviate the muscle inflammation that troubles people the day after their workout.
Last but not least, you can use CBD topically when you suffer from an injury. Its anti-inflammatory and neuroprotective effects allow the topical CBD to relieve localized pain and improve regeneration capacities.
The Potential Side Effects of CBD
The main reason why parents are so enthusiastic about CBD is that this cannabinoid is non-intoxicating, doesn't cause addiction, and has only a few mild side effects when taken at excessive doses.
Research shows that even doses up to over a gram and one-half have no serious side effects on human health.
Like most cannabis products, too much CBD oil can make your mouth feel dry. Another common side effect is lowered blood pressure, which may trigger another unwanted reaction — lightheadedness.
Before taking any CBD products, make sure to consult with a qualified health care professional, especially when you're on medications. CBD can interact with certain drugs and increase their concentration in the bloodstream; as a result, you can experience side effects that are not directly linked to CBD itself.
Final Thoughts on Using CBD Oil for Pain
In light of the current research, there is much promise in using CBD oil as a natural alternative to synthetic painkillers.
When it comes to pain, CBD appears to fight the cause of the problem instead of just masking its symptoms. It offers neuroprotective and antioxidant properties, induces reversed inflammatory response, and helps in fighting localized pain.
Getting so much relief on so many levels and without any harmful side effects or risk of addiction is the reason why CBD oil for pain has become such a trending topic in recent years.
I hope this guide has managed to clear up any confusion regarding CBD oil and pain, and that you'll be satisfied with your future choices.
Have you tried CBD oil for pain? Did you feel any difference?
Let me know in the comments below!
References:
Brand, E. J., & Zhao, Z. (2017). Cannabis in Chinese Medicine: Are Some Traditional Indications Referenced in Ancient Literature Related to Cannabinoids?. Frontiers in pharmacology, 8, 108.
Alger B. E. (2013). Getting high on the endocannabinoid system. Cerebrum : the Dana forum on brain science, 2013, 14.
Aviram, J., Samuelly-Leichtag, G. (2017) Efficacy of Cannabis-Based Medicines for Pain Management: A Systematic Review and Meta-Analysis of Randomized Controlled Trials. Pain Physician, 20(6), E755-E796.
Bruni, N., Della Pepa, C., Oliaro-Bosso, S., Pessione, E., Gastaldi, D., & Dosio, F. (2018). Cannabinoid Delivery Systems for Pain and Inflammation Treatment. Molecules (Basel, Switzerland), 23(10), 2478.
Elliott, D. M., Singh, N., Nagarkatti, M., & Nagarkatti, P. S. (2018). Cannabidiol Attenuates Experimental Autoimmune Encephalomyelitis Model of Multiple Sclerosis Through Induction of Myeloid-Derived Suppressor Cells. Frontiers in immunology, 9, 1782.